This Self-Guided Data Management Workshop contains much of the information the Research Data Service covers in live workshops and webinars, but in an online format you can access anytime. If you would prefer to host a live workshop, please contact us to request one.
What's in it?
An introduction to the research data management lifecycle
Helpful tips and terminology
Links to carefully curated and trustworthy resources
Who is it for?
New researchers will get a solid foundation in data management best practices.
Experienced researchers will find plenty of practical tips for improving your existing data management habits.
Most of the information applies to anyone. Any resources exclusive to the University of Illinois at Urbana Champaign are flagged with the "I" logo.
How to use it
The interactive Prezi allows you to move through each of the topics in order, or to chart your own path by clicking on any topic that interests you. At any point, hover over the right margin to reveal the home button that will take you back to the main lifecycle page shown below.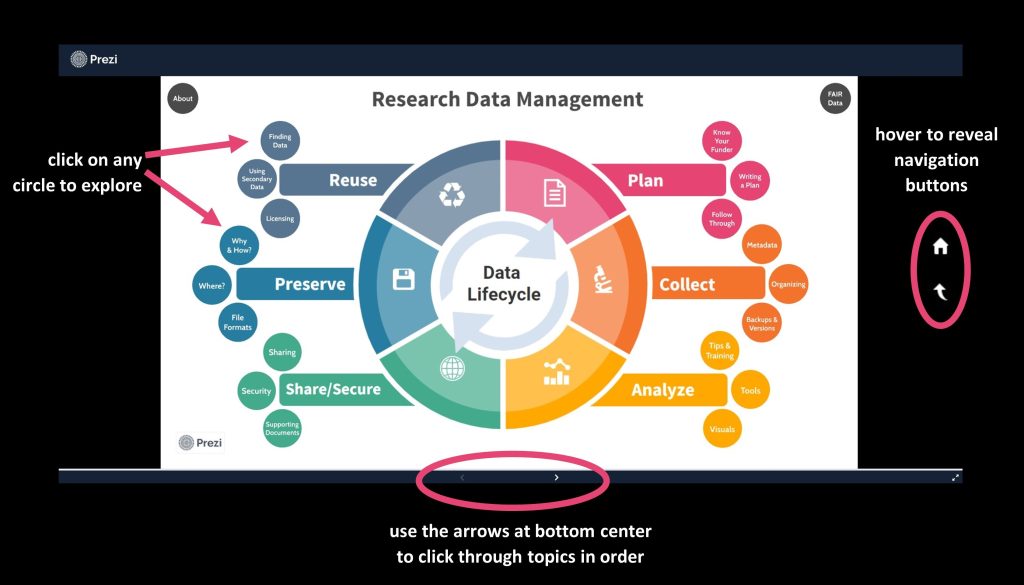 Accessibility
The Prezi format relies on point-and-click navigation, and uses simulated movement that may be jarring for some users. This content is also available as a Google Doc and in html.
Suggested Citation
Caldrone, S., & Phegley, L. (2022). Self-Guided Research Data Lifecycle Workshop [Prezi]. University of Illinois at Urbana Champaign. https://researchdataservice.illinois.edu/self-guided-workshop/